Some 400 trucks remained downtown, jamming major thoroughfares. Police said there had been 25 arrests, including for mischief and menacing behaviour. Authorities have issued more than 1700 fines, received reports of 400 hate incidents and are pursuing some 120 active investigations.
Protesters blockaded a third US-Canada border crossing on Friday (AEDT), escalating a crisis that's leading automakers to cut production, weighing on the economies of both countries and prompting US officials from mayors to the White House to call for their Canadian counterparts to intervene.
That bridge, which connects Windsor in Canada to Detroit in the US, is the busiest land crossing on the border, and a key conduit for the auto industries on both sides.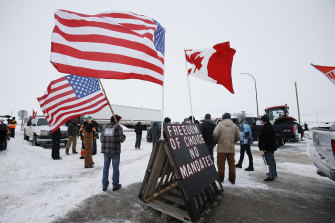 Many businesses in Canada have been closed due to security concerns and the lives of residents have been disrupted. Some have been harassed for wearing masks, police have said. Protesters are rallying also against Prime Minister Justin Trudeau.
Pat King, a far-right figure listed as a regional organiser for the Canadian convoy, has said the only way to end restrictions "is with bullets". In a video streamed online, he agreed with a passenger who said "it's going until the mandates are gone and the premiers are gone and the prime minister is gone."
"And the dissolving of the Liberal Party," King added.
Police have said that those found to be taking part in criminal activity, which could include blocking streets or "assisting others in the blocking of streets," could be arrested. They've also said that if suspects are convicted, their vehicles could be seized and forfeited and they could be denied permission to cross the border.
In the US, federal, state and local law-enforcement agencies are bracing for the possibility of a protest by truckers that could begin this weekend and carry into March, potentially including a cross-country caravan and disruptions to cities and major transportation routes.
Already in Alaska, dozens of truckers gathered in Anchorage on Sunday, driving to suburban Eagle River to show support for the Ottawa protesters, according to local media outlets. "Mandates should be our choice, whether you want the shots or not," one truck driver told the Anchorage Daily News, which reported that other cities in Alaska saw similar events.
The protests have also spread to New Zealand where vehicles clogged streets in the capital, Wellington, with horns blaring on Wednesday. Prime Minister Jacinda Ardern described the protesters as a minority.
In Australia, a pedestrian "Convoy to Canberra" has lasted for about eight days with a largely peaceful atmosphere and are expected to keep going into the weekend.