Chris Aguero knew he'd have to be prepared when his students returned to the classroom earlier this month after the US holiday season.
As the latest wave of coronavirus ravaged the country, the Texas principal had no doubt his school – deep in the heart of a state where vaccinations and masks are widely shunned – would be at risk. He was right.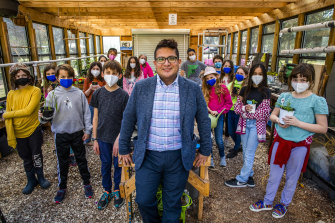 By the time America's 130,000 schools opened their gates to kickstart the new year last week, the seven-day average of daily new cases in the US had hit 480,273 infections. Among them were some of Aguero's much-needed teachers.
His solution to plug the staff shortages? Ask parents to substitute.
"Coming back we definitely had a number of teachers and families who had tested positive over the break itself, who were not eligible to return with everybody else on the week of January 4," he told The Age and Sydney Morning Herald this week.
"It's all about risk assessment for us, so in the absence of not really feeling comfortable bringing in outsiders, whose activities and behaviour we don't really know or can't guarantee, it made sense to turn to our parent community."
Like many educational leaders around the world, Aguero is now doing what he can to ensure schools remain open and minimise the knock-on effects of the pandemic: staff shortages and burnout; fatigued families juggling work and home life; children desperate to learn and socialise.
In Massachusetts, dogs are being trained to sniff out COVID-19 in classrooms, cafeterias and gyms. If the presence of the virus is detected, authorities notify the school nurse who immediately informs those potentially infected.
In Washington DC, the local council is giving out rapid antigen tests, with staff and students now required to present a negative result before returning to the classroom.
And in Texas, Aguero's independent school, which caters for pre-kindergarten to year 8 students, isn't the only one calling on parents to help. Education officials in Hayes County, just south of Austin, recently posted a request on social media and emailed families asking them to consider filling in for teachers.
Parents would still have to pass a criminal background check and do a short orientation, but principals can use their discretion to waive a requirement to have at least 30 college hours before a class.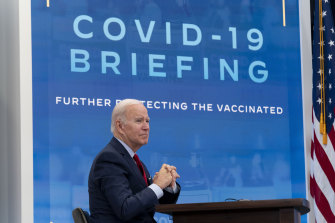 While the pandemic forces schools to innovate, the vexed debate over whether to keep classrooms open has also exposed new fault lines between teachers, parents and governments – many of them in Democrat-led cities aligned with US President Joe Biden.
Having come to office promising to "defeat" the virus, America under Biden's watch is now in short supply of coronavirus tests, about a third of the country remains unvaccinated, and countless buildings – including schools – are in desperate need of ventilation upgrades.
Loading
Indeed, even as the President told schools this month that they "can and should remain open," data from Burbio, which tracks closures, showed least 5409 schools had cancelled class or switched to virtual learning for at least one day in the first week of January – more than triple the amount at the end of December.
Among them were schools in Chicago, the old stomping ground of former US president Barack Obama, where a bitter stand-off over COVID protocols resulted in classes being shut down for five days until they finally resumed on Wednesday.
In a stoush that rose to national prominence, the Chicago Teachers Union accused the city's mayor Lori Lightfoot of failing to have an adequate COVID safe plan in place, and presented authorities with a list of demands, including switching to remote learning if the COVID positivity rate exceeded certain metric thresholds.
But Lightfoot, a high-profile Democrat, hit back, insisting that schools are "not the source of significant spread" while warning the union that its decision to walk off the job would "harm hundreds of thousands of Chicago families who rely upon (the city's public schools) for the daily needs for their education, for their nutrition, for their safety."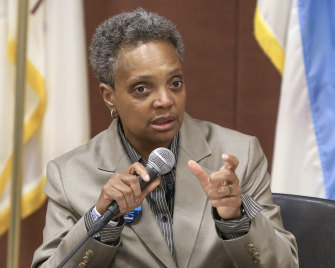 In middle of the battle were thousands of parents: some sympathetic to the teachers' cause, others so outraged that they launched legal action over what they claimed was an illegal strike that would exacerbate America's longstanding inequalities.
"Remote learning was a catastrophic failure, specifically for black students," Natasha Dunn, a mother of three and a local community activist, told CNN.
"So while we have people who are fighting to keep schools closed, there's nobody fighting to close the gaps that existed before the pandemic."
School closures have been a fixture of the pandemic since March 2020, when all 50 states shifted to remote learning to mitigate the spread of what was then a new virus. But while some closures lasted for a few months, some areas, such as parts of California, continued with remote learning for more than a year.
By the start of 2021, as Americans began getting vaccinated and infections began to decline, experts were cautiously forecasting a return to normalcy. Then came Delta, with its first case recorded in the US in March, followed by Omicron in December.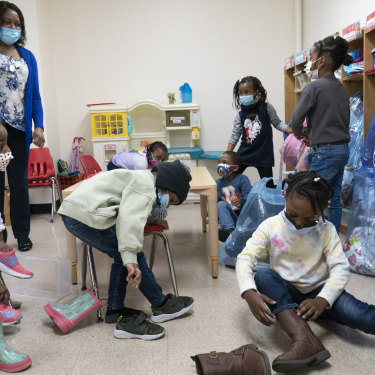 The latest surge has caused a political headache for Biden who is confronting the same challenge many of his counterparts face: balancing the need to keep hospitalisations down, with the need for society to learn to live with the virus.
But far from being able to control COVID as Biden once promised, the US is now averaging more than 700,000 new cases a day, as the Omicron variant accelerates the virus' spread faster than at any previous point in the pandemic.
And while Omicron appears to cause less severe illness than previous strains, hospitalisations have nonetheless increased more than 80 percent over the last two weeks, also surpassing the previous record.
With midterm elections this year, where the Democrats risk losing their slim majority in Congress, Republicans can smell blood. On Monday, the party's house minority whip Steve Scalise and fellow Congressman James Comer even wrote to the Democrats' House Whip, James Clyburn, calling from an inquiry into Biden's "failed" response.
After acknowledging that "we're all frustrated as we enter the new year" Biden on Thursday announced that his administration would buy an extra 500 million home testing kits and mail them to people – doubling the 500 million committed before Christmas – and would make higher quality masks available for free, although it is not entirely clear how or when.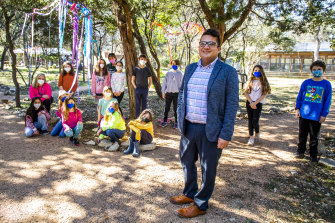 The White House also announced that it would increase the number of tests available to schools by 10 million per month and is urging districts to adopt the CDC's "Test To Stay" guidelines, which mixes contact tracing and serial testing. Under those rules students who should otherwise quarantine can, with vigilance, remain in school.
Back in Texas, Austin Jewish Academy principal Chris Aguero welcomes the effort but makes the point that the decentralised system of US education means that there is only so much federal government can do – which is why schools like his are using their own initiative.
Last year, the Austin Jewish Academy moved classes outside, creating what he calls an "outdoor school". Since 2020, everyone on campus has also been required to wear masks, although it takes an "adaptive approach" to what kind of masks should be worn – cloth or KN95 – based on the level of infections in the community.
And in the wake of Delta and Omicron, the Academy has enlisted parents to plug staff gaps. One parent recently spent two months filling in for the school nurse; another recently substituted a class for two weeks while a teacher was absent; and another worked as a kindergarten substitute.
"The parents themselves are really grateful that as a small independent school here in central Texas, we're able to offer consistent in person education," Aguero said.
"This pandemic has been exhausting for all of us. Sometimes you just have to take an innovative approach and be a bit bold."
Get a note directly from our foreign correspondents on what's making headlines around the world. Sign up for the weekly What in the World newsletter here.