The convoy started as a protest of US and Canadian rules requiring truckers crossing the border to be fully vaccinated. But it has grown into a broader movement against pandemic restrictions – which are mostly imposed by the provinces – and the Trudeau government.
Police officers by the Ambassador Bridge on Saturday stood in a line in front of blockaders on one side, while some police vehicles were stationed on the opposite side. They were accompanied by buses, including a school bus, and ambulances.
Loading
"The Windsor Police & its policing partners have commenced enforcement at and near the Ambassador Bridge. We urge all demonstrators to act lawfully & peacefully," the force wrote on Twitter.
Some vehicles began moving away from the area, while demonstrators on foot displayed the Canadian flag and sang the country's national anthem, chanting "Freedom!" periodically. Protesters began dismantling tents at the site and packing up grilling supplies.
A wall of police officers slowly pushed protesters away from the bridge, warning that demonstrators would be arrested if they did not leave.
Ontario Premier Doug Ford called the blockade a "siege" and declared a provincial state of emergency on Friday, warning protesters of "severe" consequences, including fines up to $78,500 and prison terms. He said he would convene a provincial cabinet on Saturday to urgently enact measures to make it "crystal clear" that it is illegal to block critical infrastructure.
In Paris, French protesters blocking parts of the Champs-Élysées on Saturday cut off traffic on parts of the capital's most recognisable avenue and the roundabout that encircles the Arc de Triomphe.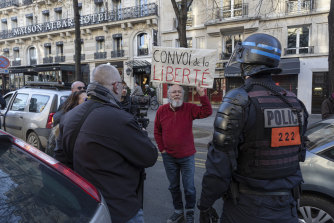 The protesters made it into central Paris, despite an order banning them from entering the capital and the deployment of more than 7000 police officers. Authorities said earlier in the day that they had prevented 500 vehicles from entering and had penalised hundreds of people.
Police appeared to fire tear gas to disperse protesters on the central Parisian luxury shopping boulevard. Demonstrators honked horns from vehicles with slogans demanding an end to the country's vaccine pass.
Canadian Prime Minister Justin Trudeau, who has previously ruled out mobilising the military to break up the protesters, on Friday vowed an "increasingly robust police intervention," adding, "Everything is on the table, because this unlawful activity has to end, and it will end."
Victoria Stecjuk, who made the six-hour journey from London, Ontario, to Ottawa for this weekend's protests, said she thought the state of emergency – and the frigid weather – would do little to deter demonstrators.
"We're going to keep coming, we're here in this weather, we're not going to stop," she told The Washington Post. "We're doing this to get our freedom back, and that's why we're here."
Washington Post