Loading
Putin said Russia was still working on a new written response in its back-and-forth with NATO and the US over the security architecture of Eastern Europe, predicting that the "dialogue" would continue even though he said the West had ignored Russia's principal demands.
He said that if Ukraine were to join NATO — a scenario that Western officials characterise as a far-off possibility, but one the Kremlin describes as an existential threat — a wider war would follow.
"Do you want France to go to war with Russia?" Putin said in answering a French reporter's question and claiming that a NATO-allied Ukraine would seek to retake Crimea, the Ukrainian peninsula that Russia annexed in 2014. "That's what will happen!"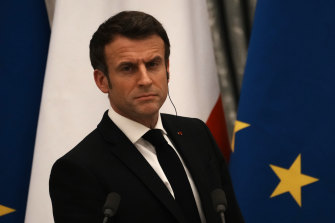 Putin saved his greatest ire for Ukrainian President Volodymyr Zelensky. Asked whether Russia would invade, Putin did not rule out the possibility. He insisted Zelensky needed to implement the peace plan negotiated in Minsk, Belarus, in 2015 — one that could give the Kremlin a way to influence Ukraine's foreign-policy decisions.
Loading
"You may like it, you may not like it — deal with it, my gorgeous," Putin said of Zelensky, repeating a crude Russian rhyme.
Macron was scheduled to fly to Kyiv, the Ukrainian capital, afterwards to meet with Zelensky to continue his shuttle diplomacy.
This article originally appeared in The New York Times.