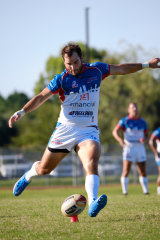 The concept, dubbed "Round Zero", had been on the agenda for several years but was shelved once the global pandemic hit.
However, with COVID restrictions lifted in Australia and international travel resuming, the parties are keen to reboot their ambitious bid to crack the world's biggest sporting market. The game would be staged at the 22,000-seat Banc of California Stadium in Los Angeles, with the time difference allowing for a Saturday night fixture to be broadcast back to Australia on Sunday afternoon.
Last week, Hollywood star Hugh Jackman declared in New York: "They would love the great game of rugby league here."
Asked about the NRL push this week, Illfield said that any additional exposure would be welcome, but was quick to warn: "It can't be a fly by nighter."
"It's about sustainability," he said. "If they bring teams here, what's the strategy beyond that to assist in the growth of the game? We would like to see some assistance both financially and operationally that would further strengthen the game in the US."
Steve Williams, an Aussie-turned-Philadelphia resident who also used to be part of the USARL, agreed.
"At the end of the day, what's the goal and how do you measure success?" he asked. "Are you trying to grow rugby league? Are you trying to grow the NRL brand? Are you trying to grow the Rabbitohs brand? What are you trying to do?"
And Tom Stevenson, who runs rugby league competitions along the west coast of the US, questioned whether the location was right.
LA, after all, is a city of four million people – only a tiny fraction of whom are interested in the game. Somewhere like Utah, on the other hand, has a dense population of residents from the rugby-loving Pacific Island. Would that be a better fit?
"The NRL shouldn't be scared of being the biggest fish in a small town for a while, instead of trying to be a little fish in a big town," he said.
So far, the growth of the game in America has been slow but steady, and thwarted, in part, by coronavirus and a general lack of awareness about the sport itself.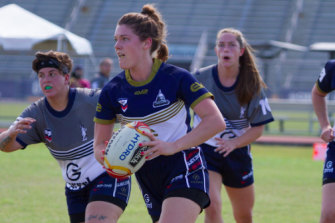 While Rugby League had its humble origins in 1953 (when wrestling promoter Mike Dimitro put together an American team for a 26-game tour of Australia and New Zealand) it would take another four decades before the country's first domestic competition was launched with a proper governing body.
But even the most enthusiastic proponents admit it hasn't been easy getting rugby league to take off beyond the semi-professional community level.
"First off, Americans are not very familiar with rugby and they're definitely not familiar with league, so you often have to explain the whole concept to them," says Slover.
"When I describe it, I'm like: imagine you've got 13 running backs playing 13 linebackers, doing those drills without pads or helmets.′ And often they're like: 'oh, that sounds interesting," Slover says.
The internal ructions over how the sport should be managed hasn't helped, either. Rugby league was formally launched in the US in 1998 with a new governing body, Super League America, which eventually morphed into the American National Rugby League.
But In 2011, the USARL was formed partly out of dissatisfaction with past management. And then a few years ago came a new force, the North American Rugby League, taking with it a number of the USARL's key teams.
Nonetheless, Slover remains optimistic. After all, there are plenty of highlights: the nation's international team, the Hawks, have had some success on the world stage; there's strong development in west coast states; and there's no shortage of passion among those involved, or what he likes to call "the family".
"I think rugby league has the most potential of any sport in the US," he says.
"I am unbelievably optimistic about it. It has so many elements that appeal to players and fans that there's no way it can't be successful – as long as it's managed properly."
Get a note directly from our foreign correspondents on what's making headlines around the world. Sign up for the weekly What in the World newsletter here.