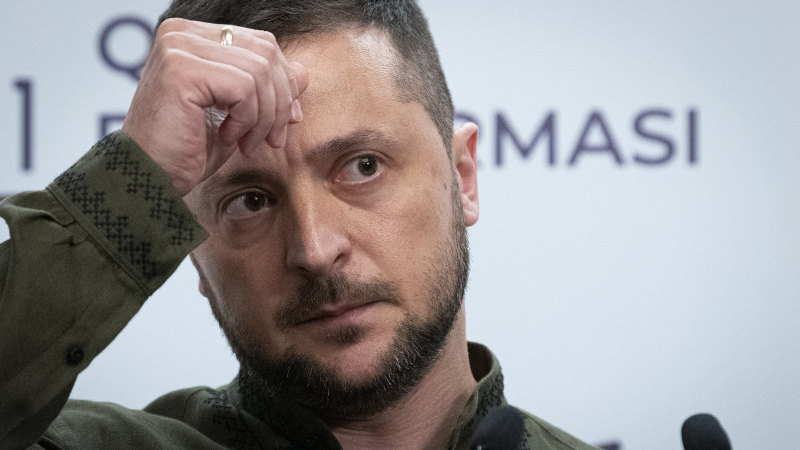 Even Russia's tightly controlled media, which previously promised a painless victory in Putin's "special military operation", is in a state of panic that Russia could lose the war.
The Ukrainians have shown they have the manpower and military brains to beat Putin, providing they are equipped with modern Western weapons.
They have already made brilliant use of high-mobility artillery rocket systems and precision-guided artillery, supplied mostly by the US, to destroy Russian supply lines deep behind the front line.
The next few months will be critical if the strategic initiative has passed to Ukraine.
While the US will have to be the biggest supplier of weapons, Australia can help, too. Ukrainian Defence Minister Oleksii Reznikov this week tweeted his thanks for 20 Bushmaster armoured vehicles which were supplied to Ukraine by Australia and transported the assault troops in the advance west of Kharkiv.
"Thanks to the Bushmasters, the Ukrainian army came to the Oskil River [the limit of the latest advance] and continues to liberate the Kharkiv region," Reznikov said.
Ukraine is asking Australia to accelerate delivery of the weapons it has already promised and offer more support including 30 more Bushmasters, 30 Hawkei protected army vehicles, 12 more M777 howitzers and more ammunition.
Australia should agree. It must not give in to the hesitation widespread in some European countries such as Germany, which have limited their supplies of weapons to Ukraine.
Some German politicians have said they want to avoid provoking Putin into a nuclear war by upping the ante or that they cannot help Ukraine because they will run out of weapons to defend themselves in future wars.
Both arguments are weak. The prospect of a nuclear war is blood-curdling but unlikely. In fact, Putin is a coward, and he knows that if he goes nuclear, it would destroy him, too.
As for keeping Australia's powder dry in case we need the guns in some future war closer to home, winning in Ukraine is the best way of ensuring that there will not be such a war.
It will send a clear signal to China and others that democratic countries have the unity and political resolve to stand up for their values and defend their interests.
Bevan Shields sends an exclusive newsletter to subscribers each week. Sign up to receive his Note from the Editor.