Pittsburgh: Police were looking for suspects after two young men were shot to death after a large party in Pittsburgh, Pennsylvania, degenerated into a barrage of gunfire overnight, police said.
Eight more people suffered gunshot wounds, while another five were injured as they attempted to flee the scene.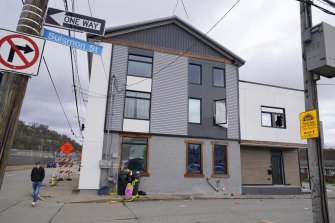 "It's heartbreaking," said the city's police chief, Scott E. Schubert. "How can you even have a holiday when something traumatic happened like this?"
The incident, which happened about 12.30am, Pennsylvania time, is the fourth mass shooting in the US to occur within the last week. Just a day earlier, nine people were shot at a crowded South Carolina mall in Columbia, and then at least nine others were shot at a club in rural Hampton County, South Carolina. On Tuesday, 10 passengers were shot inside a subway car in New York City.
Officials said the Pittsburgh party was a large, apparently unsupervised, party. Many of those attending were underage.
Loading
The chaotic scene in Pittsburgh began around 12:30am on Sunday, Pennsylvania time, at an Airbnb rental, the police department said in a statement. About 200 people were at the party, according to the statement.
Evidence at the scene suggests that there had been multiple shooters, according to authorities. The gunshots began after an altercation took place at the party. One of the victims, according to the police chief, was as young as 14.
"As many as 50 rounds were fired inside, prompting some partygoers to jump out the windows, sustaining injuries such as broken bones and lacerations," the statement read. "Several more shots were fired outside the home."