Johnson's advice was issued as he spoke to the leaders of the US, Italy, Poland, Romania, France, Germany, the European Council, the European Commission and NATO in a virtual meeting.
"The Prime Minister told the group that he feared for the security of Europe in the current circumstances," a Downing Street spokesperson said.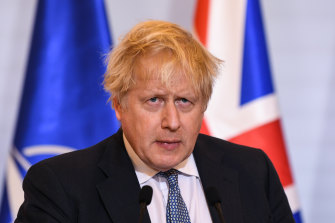 Russia has amassed more than 130,000 troops on its border with Ukraine and has been staging military drills in Belarus, on Ukraine's northern border.
Sullivan said a likely Russian invasion would begin with an aerial bombing and missile attacks and be followed by a ground invasion which would involve the "onslaught of a massive force."
President Biden first urged citizens to leave the country on Thursday night US time. But Britain waited almost 24 hours to issue the same advice.
"The safety and security of British nationals is our top priority, which is why we have updated our travel advice. We urge British nationals in Ukraine to leave now via commercial means while they remain available," Britain's Foreign Office said.
Speaking earlier in Melbourne, US Secretary of State Antony Blinken said that the United States had issued its advice to citizens because of "troubling signs of Russian escalation, including new forces arriving at the Ukrainian border."
"We're in a window when an invasion could begin at any time, and to be clear that includes during the Olympics," he said, after a meeting of the Quad foreign ministers.